Ads On Things
Welcome to Ads On Things and thank you for visiting our website!
Ads On Things is a Small Business that works with you to meet your every want & need. We work with a group of over 3,000 vendors who supply in excess of 800,000 products. All of these can be customized to include your name & whatever else your situation may require. Our comprehensive, solutions oriented approach has helped make us a national leader in providing imprinted products & custom designed programs to government agencies like your own.
We invite you to visit our testimonials page to see comments left by current and former customers over the last few years.
Featured Item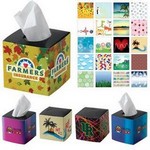 Mini Cube Tissue Box
These mini tissue boxes are irresistibly cute, and include 30 petite virgin pulp tissues. Decorated on all four sides in full-color, you can select from any of the stock design backgrounds or design y...
$1.59 - $1.75
What Our Customers Are Saying

I began my working relationship with Ads On Things in 2005. I was the Manager of Commercial Sponsorship and Marketing for the Fort Myer Military Community in Arlington, VA. Since then I have had 2 pro...
G.W.
On the Road with the USO